I first began with piano. My mother played the piano and like most parents, she wanted me to play the instrument she played. I took lessons from a pianist who was famous in the 40s and 50s playing with big bands, Bob Abbey. Bob was then playing at a restaurant in Monterey, he was a very good teacher but I found piano very difficult and hated to practice. Then one day I heard Rebel Rouser by Duane Eddy on the radio and I fell in love with the single note style of playing, the ďechoĒ sound of the guitar and the bending of the notes. I just knew I wanted to play guitar.† I begged my mom to let me quit piano to take guitar lessons. She said ok, so I rented a Gibson Melodymaker and took lessons at a Pedriniís Music in Alhambra.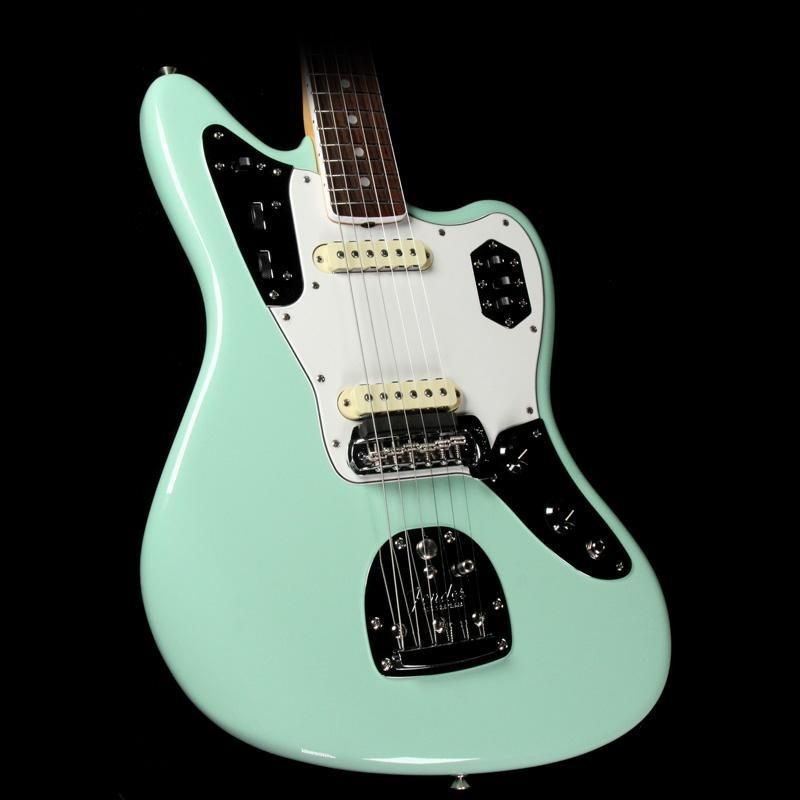 I wanted my own electric guitar and my family's hardwood lumber business (American Hardwood) was the principal supplier to Fender Musical Instruments in Santa Ana.††So I was able to negotiate a discount on my first electric guitar, a Jaguar (it was the one with the most buttons). I bought it from Berry and Grasmueck in Pasadena. I hung out there and learned about music from the guys, one who left to become the keyboardist for the Gary Lewis and the Playboys.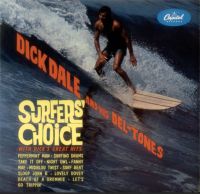 As my interest in guitar and music grew, I bought all of the records made by: The Fireballs, Dick Dale, Eddie and the Showmen, The Surfaris, The Ventures, The Chantays, Challengers, Astronauts and others. I wore some of them out trying to figure out to play them.
Then I discovered folk and bluegrass music. I joined the folk music club in high school and began visiting The Ice House in Pasadena, The Ashgrove and The Troubador with the likes of the Dillards, Stewart Clay, Doc and Merle Watson, Sonny Terry and Brownie McGhee and so many more.† Listening to Bob Dylan, Gordon Lightfoot, John Denver and Joni Mitchell inspired my interest in how a song goes together. †
When the Beatles, Rolling Stones, Dave Clark Five and others happened, my curiosity for their style of songs opened my mind to a new type of music. I saw the them all on the Ed Sullivan Show like millions of other kids my age and saw the Beatles at Dodger Stadium in 1965; the Beatles didnít displace my love of twanging guitars though. The Byrds had a huge influence on me and I saw them on the Sunset Strip. There were others: Buffalo Springfield, Hollies, We Five, Jefferson Airplane, Donavon, The Turtles, Tom Rush, Jackson Browne, Barry McGuire, P F Sloan . . . the singer songwriter era of pop music was beginning . . . James Taylor was the guy who made it happen for me.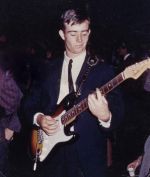 I spent my first year in college in Menlo Park, CA and played with a local band at frat parties. I transferred to USC and met one of the greatest influences on my music at my fraternity, an exceptional musician, arranger and composer, Tommy B. Tom showed me how a song was written and invited me to recording sessions in Hollywood where he was working as a background vocalist (one of the famed Wrecking Crew).
I saw Joni Mitchell at the Troubadour and decided to teach myself some open tunings and composed a song . . . wow. It wasnít very good but it was a beginning, I played it for Tommy B who encourage me to keep writing. It was incredibly exciting to actually compose an original piece of music; I didnít focus on lyrics as much as on the chord progression, it was pretty stream of conscious writing as I thought the chord structure was most important and the melody just fell in place.† By then I had purchased a Yamaha mahogany dreadnaught guitar. I had abandoned electric music for the timebeing. While at USC, I performed at Songest and jammed with a few friends.
I graduated from USC and worked for American Hardwood but became disenchanted, got fired and decided to pursue the music business. Because Tommy B had introduced me to people at TTG-Sunset Highland Recording Studio (where he recorded on many occasions), I showed up at the studio and made friends with the engineers and the owner, Ami Hadani. I asked Ami for a job but there were no openings. One of the engineers suggested I stop in to see a new studio being built, The Record Plant. It was amazing for me to be able to just walk in and sit in on sessions. One day I walked in and they were listening to all of the recorded music from Woodstock. Another time I walked in and Country Joe and the Fish were recording.† This was really getting exciting.† A few weeks later, the same engineer referred me to Mike Lietz who was on staff at Amos Records but also doing independent work. Mike liked me an offered to mentor me. Mike was working for the Andy Williams TV show prerecording sound at United for the TV showed that was being videotaped the next day at NBC. Mike Post (who won a grammy for producing Classical Gas) was conducting the orchestra. Mike also worked with many other artists like Don Ho and Johnny Rivers. It was a great time to be able to work with so many great musicians. All of the top studio musicians were in TTG on a regular basis : Hal Blaine, Mike Daisey, Larry Knechtel, Larry Carlton, Tom Scott, Lincoln Miyorga and so many more. I was able to sit in for several weeks and one day Andy Williams offered me a job to be his stand-in but thatís another story.
I worked for Andy for 2 months but got a call from Ami asking me to come work at TTG. It was a tough decision because I was making more money in one day as Andyís stand-in but my goal was to learn how to be a producer and since I couldnít read or write music, I thought engineering would make it possible. Ami Hadani, who owned TTG and was Count Basie's favorite engineer. Ami was a great man to work for and learn from. The Mothers record their first album at TTG but left the place a shambles and Ami decided to refocus TTG's efforts towards movie soundtracks, TV shows, symphony projects and a few selected record dates.
My experience included record dates for pop songs, religious orchestras, jazz projects, demos, movie themes, voice overs and TV shows. CC & Company and Vanishing Point were two of the movies I remember. The Don Knott's TV show was a weekly regular with a great lineup of musicians every week. An unknown duo signed to Amos Records called Longbranch Pennywhistle was at TTG working with Mike on a few songs for Vanishing Point.† Mike invited me to assist on the sessions and I had the opportunity to get to know Glenn Frey and J D Souther. I sold some songs to Four Star Music and did the demos with a really good songwriter from Texas named Patti Dalhstrom. I also played a few gigs around town and sang at friends weddings that took me to places like Aspen, CO; Santa Barbara, CA; Yosemite, CA; and Carmel, CA. I also played for several months at Earth Mother's Restaurant at the end of the Malibu pier.
When I moved to Aspen in 1970 I hooked up with a good guitar player, Jim Deines from Fort Collins and we played gigs at several clubs. It was in Aspen in 1971 when I ran into Glenn Frey again as he was in town with his new band "Eagles" rehearsing for their upcoming recording sessions in England with Glyn Johns; they played at The Center at the foot of Bell Mountain for two weeks . . . they were great then! but who knew . . . truthfully, I did.
After returning home to Southern California in 1972 I moved to Santa Monica and ultimately decided that the music business was something I'd have to enjoy as a passion not as a career. I was invited to several friends recording sessions and rehearsals but didn't think twice about focusing on my real job back at American Hardwood. I took up the mandolin and won "best new mandolinist" at the Topanga Canyon Banjo and Fiddle Contest in 1975 . . . thanks to John Zehnder at McCabes. My friend Hal Beery and I would perform at the annual Garden Theatre Festivals.† My roommate when I was living in Santa Monica and Pacific Palisades, Marty Kaniger, was a full time musician and songwriter.† His regular gig was at Regular Johns in Santa Monica but on Saturday nights after his regular sets, heíd bring on stage a group he and his partner Bob called Big Daddy Dipstick and Lube Jobs. I was asked to sit in and sang the "Calendar Girl" type songs.† Marty would go on to refine the group to Big Daddy and record several CD's with their most creative style.
I played some gigs in Santa Monica and a few weddings but didnít concentrate on music all that much. I moved to Manhattan Beach and met Toni who has inspired many of my songs, one of which I wrote and sang at our wedding.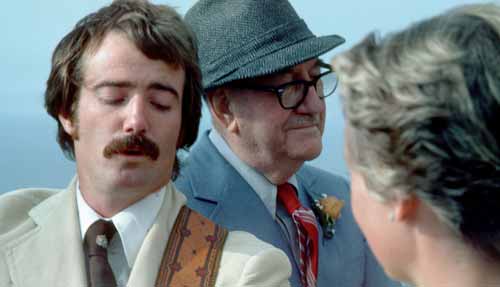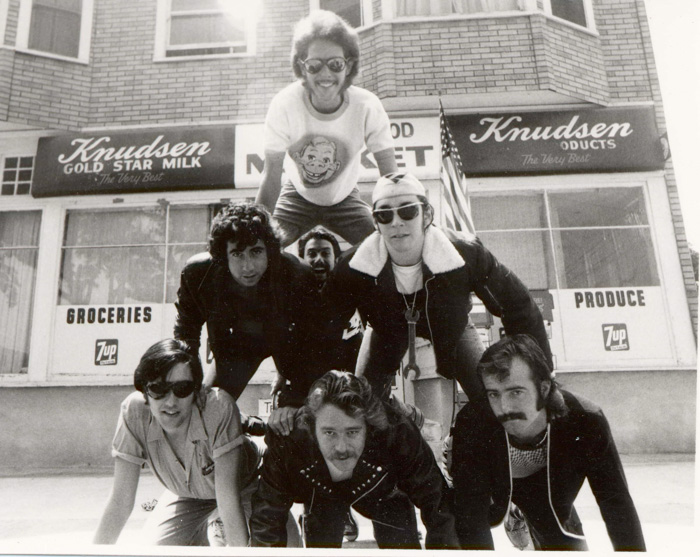 I didnít play much music for the next 12 years. In 1987 we moved north to Fair Oaks, CA for a new job and I decided to pursue my music passion more regularly. I saw an article in the Sacramento Bee in which a local choral group was auditioning for more tenors.† This was my chance to get into some "serious" music.† So I met with Don Kendrick the director of the Sacramento Choral Society and Orchestra for my audition, it went well and I began rehearsing with the group for my first choral performance, Ralph Vaughn William's "Sea Symphony".† It was one of the highlights of my musical career.† What an incredibly uplifting piece of music.† Over the next two years, I sung with SCSO performing Verdi's "Requiem Mass", Mozart's Requiem, an evening of Cole Porter songs and two Holiday concerts.† I learned so much about my voice during those two years. It was so valuable but I decided to leave the group and devote an equal amount of time to my own music.
I discovered an old-time jam taking place in Folsom and discovered the California Bluegrass Association and joined up. I attended the Fatherís Day Festival and went to camp outs and increased my knowledge and skill on mandolin and guitar. I signed up for workshops with mandolinist John Reischman and guitarist Jim Nunally and dobro guitarist Sally Van Meter. It was at a festival in Plymouth, CA that I met the band, Better Late Than Never from San Luis Obispo, CA.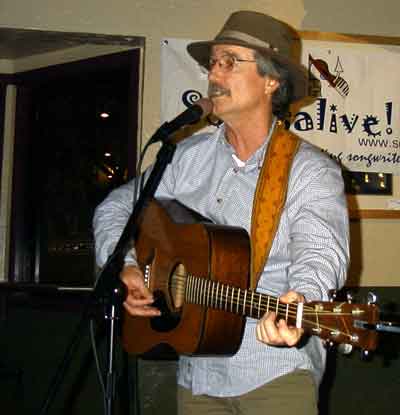 Around that same time, I was singing at open mics and was asked to host a songwriterís showcase once a month called Songsalive where I performed the opening set and then introduced the audience to new songwriter performers in the area. I hosted 18 showcases.
I recorded my first CD in Sacramento in 2004 and finished it in September of 2005.† It was fun to be back in the recording studio producing my own songs. I distribute the CDs from those sessions at gigs. My music ďpartnerĒ in Sacramento was Dave Baldwin whoís been a great friend for many years. He has been hosting a showcase in Sacramento for 20 years!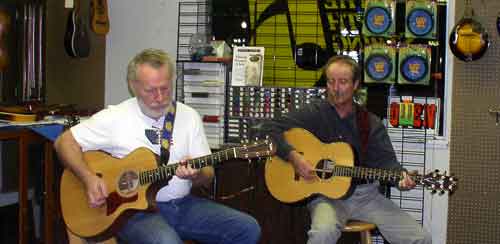 A year later I moved to San Luis Obispo and immediately called Sally and we played some gigs together as Clearview. John Reischman asked me to produce a concert for him in San Luis Obispo (I had hosted Johnís band, the Jaybirds at my home in Fair Oaks), Sally helped me secure a sound system from local musician an entrepreneur, Peter Morin (owner of Blue Note Music) who helped me produce two concerts. Peter and I have become great friends and picking partners. Iíve produced 4 other concerts for touring artists and was asked to keep Songsalive going in SLO but declined.
San Luis Obispo is a very musical town and the more people I met the more I got involved. Musicians like Sally Vedder, Roger Simonoff, Peter Yelda, Steve Watt, Sonnie Brown, Steve Key, Scott Smith, Julio Boysenberry, Ralph Goff, Tony Pires, John Vincente, Scott Morris, Ron Saul, Adam Levine and others became my circle of musical friends. I also helped a local concert promotor, Steve See with his concerts and got involved with SLO Folk Music Society (SLO Folks), of which I was on the board of directors. An organization that I helped co-found called The Bluegrass Music Society of the Central Coast was formed to promote and produce the Parkfield Bluegrass Festival.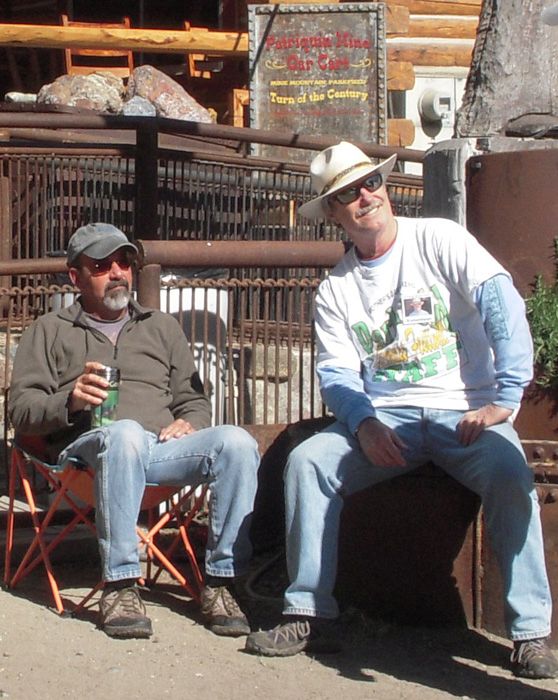 I met Jim Thurman at one of Pete Morinís pickiní parties and we decided to form a duo and called ourselves The Buchon Brothers. We played original songs and other Americana music for 2 years until Jim decided to concentrate his efforts on his teaching and I looked elsewhere for musical opportunities.
I was always writing original material and hooked up with local musician Ralph Goff to play bluegrass music. Ralph had his own recording studio and introduced me to Band in a Box software. I remembered Tony Pires from Grass Valley whoíd recently moved to the central coast and we started jamming together. Ralph and I asked Tony to sit in with us. Not long after, Sally Vedder began to sit in and SLO Pokes was born. SLO Pokes played many gigs around the central coast, for private parties, harvest festivals and wineries. Sally moved to Mexico and Elita Chaffin took her place, then Ralph took off rambling around the western US and Steve Watt on dobro took his place. I had to leave SLO Pokes in 2014 but we still get together jam. I got a regular gig at El Colibiri Hotel and Spa in Cambria and invited my Adam Levine to sit in and we have performed gigs around the area.
I played some solo gigs. Then met Ron Saul whose story is a book unto itself but suffice to say, he invited me into his incredible circle of musician friends jamming in his workshop every Tuesday night. I decided to expand my duo with Adam to a quartet with Ron on percussion and bass player Dylan Johnson since replaced by Phil Gross. I called this period of my music career, A Kincaid Incident and you can find many videos on Vimeo and YouTube.
Iíve collected a number of great instruments and even made a mandola with the help of Roger Simonoff but my favorite is the guitar that Wayne Henderson made for me, a LOO. Recently Iíve recorded several original songs with Damon Castillo and released my Christmas song, Santaís Gonna Be Here Tonight last December on YouTube, Soundcloud and Clypt. I look forward to completing a CD with Damon in the near future.